Will Beria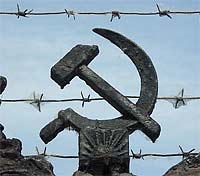 In order to bring about the socialist paradise embodied in the phrase, "From each according to ability, to each according to need," we must not only apply this principle to the productive and unproductive in society, but also extend it to the anti-productive, i.e., the criminal.
If reward is unrelated to the degree of production, then punishment should also be unrelated to the degree of criminality, i.e., anti-production. It is clearly unfair that one person should be imprisoned for life while another serves a mere 30-day sentence. We propose all punishment should be equal regardless of criminal ability.
Only when we have equal reward and equal punishment for every citizen can we be a just society of total equality. Since people live to different ages, a one-year sentence will be greater punishment for the shorter-lived than the longer-lived. Therefore, the only fair and equitable punishment would be life in prison for everyone. That would be the ultimate embodiment of social and economic equality.
Unfortunately, no catchy slogan exists to encapsulate this idea. Still, if "From each according to ability, to each according to need" makes sense, then this extension to criminal ability must make sense as well. We are open to your suggestions; a pithy slogan beats an actual argument every time. And fits better on a protest sign to boot.

Obamugabe
My Comrade

On a point of order: We know that while all crime is equal, some crimes are more equal than others.

For instance:
--Some "crimes" are committed due to the inherent Communistic Genes that Gaia and Evolution have instilled in all humans. If a person "steals" from somebody else it is usually because the "victim" was taking more than he needed from the Collective or Gaia. The "thief" did the right thing, he redistributed the wealth to its rightful owner, the Collective. A very righteous deed indeed. We now know that these "criminals" are true progressives, and they make the best possible Komissars and Party Officials.
--Some crimes are truly destructive to the collective, for instance the idea that a person may own property or money privately, and therefore take more from the Collective or Gaia than he needs. Another example would be the reprehensible idea that humans somehow have the "right" to privacy, or that they are capable of making decisions about their own lives. These are the least equal of all crimes. For these types of crimes life imprisonment is not such a good idea. We know that while all humans are equal, the degree of equality of a person depends on his or hers contribution to the Common Good. Old people and unborn babies do not contribute to the Common Good, they only take from the collective. For this reason we terminate them, under Obamacare in the USSA, and here in Zimbabwe by my word. In the same way thoughtcriminals do not contribute to the common good. There is therefore no reason for imprisonment.

They should all be sent for immediate End-Of-Life-Counseling.

Amandla!

Obamugabe


Comrade Whoopie

I received an Emessage today from DHS. They've been monitoring my comments to the Cube as well as iOTW. They wanted to know if I'm a Rightwing extremist pretending to be a radical Communist or a radical Communist pretending to be a Rightwing extremist. Apparently they don't know how to classify me on the Terror Watch List. Or for that matter whether to put me at the head of the line or the back of the line when ObamaCare becomes universal.

Devilish me, I told them I was just an Independent acting independently.


Leninka

One sentence fits all: burglary - you get life, rape - you get life, shoplifting - you get life, murder - you get life. However, there is one exception - extort millions by taxation and spend it frivolously, or line your pockets, or your husband's businesses, you get a free trip to Hawaii.


Kulak
"From each according to ability, to each according to need" Karl Marx

From the laboring, tax-paying entrepreneurs and middle class, to the lazy, non-disabled, tax-eating intellectuals and proletariat class.

Oh yea, I forgot; we in the Inner Party are the not-to-be-equalized equalizers. We will gorge ourselves on the property (money obtained through un-Declarational excessive taxation) extracted from those fools with the ability to create property - then we'll toss out the leftovers - you know, "according to need" - you know, "Social Justice." Ha, Ha, Ha, Ha, Ha, Ha, Ha, Ha, Ha, Ha, Ha ......................

"It had long been realized that the only secure basis for oligarchy is collectivism. Wealth and privilege are most easily defended when they are possessed jointly. The so-called "abolition of private property"... meant in effect the concentration of property in far fewer hands than before... In the years following the Revolution it (The Socialist Party of Oceania) was able to step into this commanding position almost un-opposed because the whole process was represented as an act of collectivization... It had always been assumed that if the Capitalist Class were expropriated Socialism must follow; and unquestionably the Capitalists had been expropriated. Factories, mines, land, houses, transport, everything had been taken away from them; and since these things were no longer private property it followed that they must be public property. Ingsoc (Socialist Principles of Oceania), which grew out of the earlier Socialist movement and inherited its phraseology, has in fact carried out the main item in the Socialist program with the result; foreseen and intended beforehand, that economic inequality has been made permanent." George Orwell - 1984


Comrade_Tovarich
Comrades,

Does this mean I will no longer need to say, "Thank you, sir! May I have another?"


Leninka

Comrade Tovarich,

It's Saturday night! Please throw poor little Oliver Twist out the window. Forget the oatmeal, or any other kind of gruel. It's time for vodka! You must opiate yourself periodically, and, now I must ask: "Did you have your weekly Jiffi-Lobo? I hope so, because, on Monday, it will be more beet digging, with the constant threat of Pinkie's shovel. So, drink and be merry, forget Fagan, and what's his name, that little boy who was Fagan's first assistant, the Artful Dodger.


Father Prog Theocritus
Tovarich
Thank you sir! May I have another?"
Leninka, I esteem you dearly but I suspect that dear Comrade T was delving into the mysteries of sadomasochism. Or at least fraternity initiations.
Which makes perfect sense. I love Mike Malloy, the Mumbling Moonbat. He's on XM America Left. In his world "fascist" describes everything that doesn't look back at him in the mirror. If there's not a problem which he wants to solve by coercive government, then he'll find a problem just to freight in a little, or a hell of a lot, of coercive government.
4M warned his listeners in the vast middle of America (read, "fly-over country"), to be careful because of the storm. "But if you're a Republican, go out shopping and when you hit a patch of ice, floor it!"
I'm
so
freaking glad that we Progressives aren't mean like those Rethuglicans.

Leninka

And how would I know anything about that!!!


Father Prog Theocritus
No, no, no, dear Leninka. I did mean to suggest that you knew anything about BDSM, except of course that all true Progressives love to show their wounds.

It's a way of showing our sincerity, as we sigh portentously that the world, the stupid world, just doesn't seem to care about us. I can't tell you how many Jiffy-Lobos I've had over that one. There were dark, dark times when I had, in the middle of the night, seditious thoughts: if the world doesn't give a shit about my ideas unless I ram them down their throats, what does that make me?

If my interpretation of events is so paranoid and delusional, incapable of distinguishing between causation and correlation, that I see a right-wing plot in old milk going bad, what does that make me?

It makes me the biggest customer of Jiffy-Lobo in the TransPecos area, that's that it makes me!

Thank you, Jiffy-Lobo. Because of you I never have to feel the sting of cognitive dissonance nor worry that I'm a silly bugger. Because you've taken out the bits of my brain which give me self-awareness!

Thank you, Jiffy-Lobo. I'll never have seditious thoughts again.

Or any thoughts.

Nanski Peloski thanks you too.