Comrade Stierlitz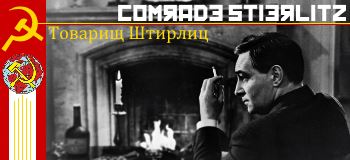 Komrades! I found this article while dumpster-diving for cans of beets. I now wish that I hadn't uncovered it because some thoughtkriminal stole it from me and has put it on a non-party-approved rag of false news. I denounce myself for this act.
[indentr]

"We feel like we survived a plague, and now we are seeing people with boils on their skin."
[/indentr]
[OFF]
I couldn't have said it better myself. I do disagree with some of their views on American politics, but I can't agree more with what they said about the USSR. I'd like to sit down every Sanders supporter and every communist and socialist with a former Soviet citizen and have said citizen tell them of the horrors of their dearly beloved communism. Tell them that they've been lied to or are lying to themselves. The words may fall on deaf ears, but I'd think that at least one person would see the lies they've been sold and reject them. I can't say more, these wonderful
LEGAL
immigrants took the words right out of my mouth.

Red Square
Those traitors to the Motherland described in the article above need to be purged and denied all social benefits with harsh revolutionary prejudice.
Fortunately for the Revolution, not all ex-Soviets are like that.
Meet Vitaly Shklyarov, a Russian national running Bernie Sanders campaign
The link is to a Russian-language site, Jewish World, for the Russian-speaking Americans. And here's my quick translation - it was an easy job because it was as if written specifically for the People's Cube.
Meet Dr Vitaly Shklyarov
No, he's not a doctor on Brighton Beach. He runs the Bernie Sanders election campaign. And no, he's not a hyphenated Russian-American. He is a Russian citizen. This intelligent young man is Doctor of Political Sciences and knows six languages. He's also a recipient of the
The Pollie Award
for his participation in the 2012 Obama campaign.
(The Pollie Awards are the Oscars of political advertising and the most prized and sought-after awards in the political communications and public affairs industries, given by the AAPC (American Association of Political Consultants) - O.A.)
He also deserves to be awarded the "Hero of Russia" medal - for his achievements in changing the way Americans think, for bringing the glorious victory for Socialism in the United States, and for ensuring election victories for our dear leaders. "Our locomotive, forward fly!" "Long live the Bernie Revolution!"
The new changes in our society are all the old junk that we, ex-Soviets, badly wanted to forget, but we are now reminded of it again, thanks to Vitaly Shklyarov.
He knows exactly which way to go and what awaits the American people at the end of that victorious march towards progress.
Of course, you've never seen his pictures: he's not Melania Trump, there's nothing to look at. Inquiring minds can glean more from
his LinkedIn page
. Calm down, comrades! With leaders of such caliber and experience, we'll all be safe as if behind a stone wall. Literally.

mi

Ex-Soviets may not be a very clear indicator, because USSR collapsed 25 years ago. But Venezuelans have some very fresh impressions. And, aside from the late Presidente's lamentable anti-Semitism, the good Senator's ideas are indistinguishable from his.


Great Stalin's Ghost
Oh, what the heck, you spoil sports. Just because it's failed repeatedly, has never worked as advertised, and caused the untimely and painful deaths of tens of millions of people while keeping others living as virtual, poverty-stricken slaves, why can't we try Bernie's socialism just one more time? Seriously, what have we got to lose? Besides our chains, that is.

And capitalism is just so, so, so unfair!