Potemkin Villager

Brazilians vote for a Revolutionary great leader, even with full freezers, do they not know their chicken belongs in our pot. Their duty is to stand in line for the Motherland.
"Antonia Monteiro da Silva, a 53-year-old cleaning lady in Brasilia, said that before Lula, she "didn't even have chicken" at home.
"Thanks to God, my freezer is full of meat, and we don't want for anything," she said, adding that she voted for Rousseff because of her message of continuity."
http://www.reuters.com/article/idUSTRE6911JR20101003

The Red Terror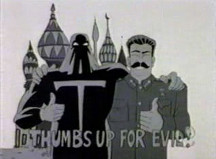 To be fair, they had to put the bodies of the opposition somewhere.


ThePeoplesComrade

We at the Cube would of course support any former Marxist guerrilla leader no matter her race, nationality or sexual orientation (or lack thereof).


Krasnodar
Friday, Gov. Schwarzenegger promised all Californians some pot in every chicken.
Or was that Nancy Pelosi making a last-minute campaign promise ? Perhaps both ?

In light of the article concerning Brazilian politics, I don't think any rational being would consider these new Californian developments a coincidence.


Comrade Whoopie

I denounce this woman for abandoning the vegan lifestyle.


Dig4Utopia

I am new thought criminal. I can dig deep for the Party, Glorious Utopia is down here somewhere.
Suggestions for feeling greater guilt for even desiring said chicken in my pot?


Comrade Whoopie

Welcome digger, no need to ask for suggestions, we will instruct you in all you need to know. For the time being it's enough that you finally realize that we alone have all the answers. We are the sole source of undisclosed truths. In time you'll be able to think what we tell you for yourself.


Chedoh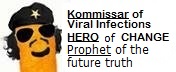 So what happened to the kulak that hoarded the chickens in the first place?
(Party Approved Poetic Justice)
I see justice is served.