Colonel Obyezyana

It had to happen sooner or later.
Landlocked Afghanistan now has a Navy under the command of the Taliban, who formed the pond-going force without the help of abandoned U.S. equipment.
FORMIDABLE FORCE
The Taliban deploy a series of FFBs (Fatwah Fulfillment Boats) on some swimming hole in Afghanistan.
ALL ABEARD
Taliban sailors in haircraft carriers patrol the shallow waters on one of Afghanistan's three or four drainage ditches.
TALIBAN LAUNCHES ITS NAVY

Minitrue

I see no innocent children or aid workers, so they are also safe from drone strikes.


Kapitan Kangaroo Kourt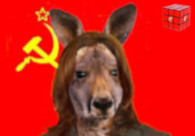 It's wonderful to see stone aged warriors with modern equipment. Sure beats the hell out of bark canoes.


Colonel Obyezyana