Comrade Whoopie

Comrades, our movement marches on to victory despite the efforts of reactionary voices. Here are but two examples to swell the hearts of all fellow travelers.
This from Dempster Pickins "I used to be an unemployed homeless bum and drug addict. Now, thanks to ACORN I'm not unemployed anymore. I have 3 cash paying jobs. A Census Taker, a Necro-voter registration facilitator and a Townhall counter-protester."
And this from Maliq Abu Boo Boo from the Mau Mau Brigade of the New Black Panthers "Last election all we had to intimidate voters was sticks. Thanks to Obama's stimulus, we just got a new shipment of Chinese made AK-47s. Let's see them honky mudderfuggas try and cast their lily white vote come 2012."
Yes comrades, progressive change is finally upon us.
I bet others have heart warming stories of their own. Let's hear 'em comrades.

Opiate of the People
I used to be a two-bit hack comic that was about as funny as a presidential press conference. But now, I am now a pointy-headed intellectual and appear on TV with smart people like Keith Olberman and make really cogent and coherent arguments about how great Obama and all his policies are n' stuff. Thanks to socialism, I'm now a
useful
idiot.
[center]
[/center]

Colonel 7.62
Comrade Whoopie, if I am not mistaken, that picture of the Black Panthers was taken in Olympia Collective. The oppressive Washington State Patrol ended up working a deal with them when they were demonstrating in Olympia; namely unload the rifles and be left alone. They complied.

After the Panthers marched on Sacramento, for a while there were machine gun nests on the Capital grounds in Olympia. The Panthers also inspired a state law which made it illegal to carry a weapon in a fashion that "warrants alarm for the safety of others". Which is silly, because apparently up until that time in Washington State, one could freely run around the streets waving a gun around and shouting, and nobody could do anything about it.


Commissar_Elliott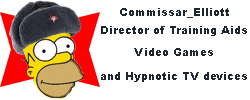 We were all unemployed and wanted to help The One become president, but didn't know where to start. Thanks socalism!