Zampolit Blokhayev

By Boris Sukavich Blokhayev, Zampolit
Wednesday, February 10, 2016
People's Socialist Republic of DC -- There is a report going around the 2016 campaign trail that there are some that think Comrade Senator Bernie Sanders is not progressive enough and not a true Marxist. That he is not fully committed to Dear Leader Comrade President B. Hussain Obama's Mindless March to Marxism™.
To address these baseless charges we have inside reports telling us that Comrade Senator Sanders will establish a new investigative committee to be called the "Senate Committee on Anti-Socialist Activities".
This committee's objective will be to root out all remaining vestiges of free market capitalism that is still entrenched in American society and see to it that these Thoughtcriminals™ are properly educated at a Karl Marx Treatment Center™.
It is being said that sympathetic corporatists such as George Soros, Jeff Immelt, Bill Gates, Warren Buffet, and Michael Bloomberg will be brought in as special consultants to the committee to assist in ferreting out, what is perceived to be, evil entrepreneurial capitalists who stand in the way of a Corporatist/Socialist society for Amerika.
Research shows that the U.S. has a serious "capitalist infestation" problem. Most members of the Democratic Party's Politburo agree that something must be done and feel that the comrade senator's proposed committee is the best way to solve this problem. Nevertheless, some members of the DNC's Politburo are concerned that this committee will not go far enough towards bringing down the U.S. economy.
Comrade Steve Koravco, the Communist Party USA's representative to the Politburo, said, "The ultimate goal of progressivism in America is to create a socially just economic system that will replace the current, discriminatory, capitalist system, with a centrally controlled Marxist economy that will not collapse. Will Comrade Senator Sanders' plan contribute to this important goal? That is for the Central Committee to decide."
Other Politburo members fear that there are not enough Karl Marx Treatment Centers and that Comrade Senator Sanders' committee will overwhelm the limited number of beds currently available.
The consensus of the Politburo is that a Senate Committee on Anti-Socialist Activities is an endeavor whose time has come. But there are logistical obstacles that need to be addressed before it can begin its inquisition.

Red Square

Zampolit Blokhayev

Red Square
Twilight_Zone_2016.jpg
Comrade, Please!!! That would never happen here! Now where did I put that "magic" kool-aid?

Comrade Stierlitz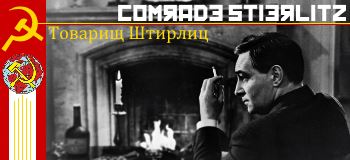 Red Square
Twilight_Zone_2016.jpg
[OFF]
Funny you should mention The Twilight Zone, because there's an old episode called "The Obsolete Man" that deals with a a lot of the Orwellian censorship and "purging" of people that it seems most governments have wet dreams over. It's one of my favorite episodes, next to "A Game of Pool" , "Printer's Devil", "To Serve Man", and I believe "40 Fathom Grave", although every single episode is solid gold if you ask me. I'd post a Youtube video of it, but sadly the only complete versions are live stage adaptations and the original, as with most originals, is far superior.
This link
will take you to a very thorough description of it, although I wouldn't click on it if you're willing to try to find a copy of it and watch it yourself.