Ivan Betinov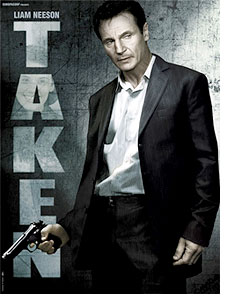 I have just returned from the local collective's cinema and from the viewing of a most disturbing movie, the latest offering from Pierre Morel, a movie entitled
Taken
.
This film has so much wrong with it that it is hard to begin. So let us begin at the beginning. While I do applaud the writer's initiative in showing the protagonist, played by Liam Neeson, as a CIA agent (or possibly some other shadow organization) whose marriage was destroyed by his slavish devotion to the BusHitler regime, at no point does he suffer flashbacks of his nefarious war crimes or fall prey to debilitating alcoholism or drug abuse...in fact, he seems to be fairly well adjusted.
What's worse, he seems fully capable of social interaction with both his estranged wife and daughter and his ex-wife's new husband. Surely this is not the proper behavior for anyone who voluntarily served the most evil president in the history of the United States. He should be a remorseful alcoholic, consumed by his own guilt and shattered by the realization of his crimes against humanity. Yet at no point during the story does he express any regret or remorse.
One might assume that this stance is merely a set-up by the writer to establish the moral blindness of Neeson's character, but sadly this is not the case. He does not utter racial slurs, denegrate women, or behave with the Neanderthal persona that any soldier or intelligence agent must logically exhibit. In fact, he doesn't offer any glib comments when he kills people; he simply kills those he has deemed worthy of killing.
This complete flaunting of Party-approved stereotypes does not stop with the protagonist; a sub-plot of the story involves an encounter with a young diva-type singer. Party doctrine mandates that this character should be either (a) an environmental activist, (b) a dedicated peace activist or (c) so utterly freakin' cool that she walks around without underwear, and that above all, she must hold any person who resorts to violence (except of course, for Hip-Hop Artists and Sports Stars) in complete and utter contempt. Yet this movie portrays this pop star as a well-adjusted, intelligent and nice person. Not the acceptable, "condescending nice" that the elite show a servant, but genuine niceness.
Likewise, the "villains" of the story are not portrayed in any form of sympathetic fashion. The kidnappers are not given any back-story that excuses their acts. There are no flashbacks to their terror-filled childhood of NATO (read AMERICAN) jets bombing their villages. There is no political motivation for their kidnapping, no targeting of this particular person because of her father's war crimes. Nor are they finally revealed to be the product of an American intelligence operation gone rogue. They are shown as mere opportunists. While showing American soldiers as callous opportunists is perfectly rational, nobody else besides Americans on the planet is actually evil. Big failing marks for this film in this respect.
The film fails again in the action sequences. Neeson's character does not rely on "spray and pray" gunfire. He actually aims before he fires. How are you supposed to show the stupidity of guns and the use of violence if you don't show the American blazing away, shooting up innocent bystanders in his blood-crazed reversion to the savage archtype? The "villains" are not shown as clever, or justified, or given any redeeming qualities whatsoever. And the film simply violates the laws of the universe regarding torture...it actually supposedly
works
in this film. And Neeson's character shows neither regret nor joy in its application; it is simply shown as a tool.
And it has a happy ending. How pathetic. Everybody, including ???, knows that there is absolutely nothing right in this world. This film defies convention and Truth by suggesting that there might be moral absolutes, that an individual can be more effective than the state, and that some 17-year-old American girl doesn't somehow deserve everything that's coming to her for the crimes her country has committed. It even shows
Muslims
as bad guys.
Stay away from this film, comrades. It contains themes that have no place in Progressive thought. And it doesn't contain one, single, suprise nut-kick to Conservatives. Not one.

Opiate of the People
Comrade, I hope that you stood up and walked out had someone remove your jar from this movie. And, I hope that while doing so, you denounced it loudly in order to increase your personal feeling of moral superiority raise awareness of the moral issues involved while annoying everyone around you with your self-righteous blather shaming those who remained for their callousness. You must take an example from Comrade ??? who feels so deeply about the injustices perpetrated by this evil country that he no longer knows who the heck he/she/it is. This person truly should be is committed, Comrade!


Sir Red Star(The Naughty)

Betinov you did not mention that this obvious Rethuglican, ex baby killing, was raciest. At the end of this film he was not being fair with possible members of Hamas. He just indiscriminately shot them.

I won't even mention his sins against the Gorical, he was flying in a Private jet!!!

I understand that Sarah Brady cried, as there were ebil firearms being used in this movie.

Lastly, not once did I see tribute to the Obamessiah!!!!

Commissar Red Star CEO Hemlock Hospitality Inc
Director of kicking doors at Midnight
Keeper of the sacred Plasma Cutter
Herdsman of Rainbow Farting Unicorns
Keeper of the faith


Ivan Betinov
Quote:
Lastly, not once did I see tribute to the Obamessiah!!!!

How absolutely true...in my revulsion and disgust with the violent tone of the movie, I complete failed to notice the lack of proper homage to His Obamaness. Why, there was not a single mention of the election, the coronation, or the thus far brilliant career of the Glory O. And in fact, the film itself belies the promise of the Age of O: bad things were happening and not everyone loved Americans.

Commissar_Elliott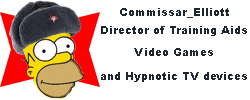 I say we do it the Minnesotan way of avoiding the film. We avoid it until it comes out on video. Than when it comes on video, we gather all the videos we can, than set them all on fire in a public display of hatred. We put our hands up to it so we can stay warm, as everyone else knows Minnesota is frozen.