Red Square
The Left has been winning over the Right by spreading paranoia among the blacks about the hidden "racist" motivation of conservatives and Republicans. What will happen if the blacks find out that a major factor behind just about every "liberal" policy for the last 40 years has been the hidden racism of the white "progressive" Democrats?
Our comrade-in-arms Zombie is making a great point that may well start a wave of reverse paranoia, if only the message is allowed to sink in.
While it's hard to imagine that racism is the only factor here - after all, socialist revolutions also happened in ethnically homogeneous societies - it's also obvious that that racism is adding a unique appearance to the American brand of progressivism.
Let's hope this insightful piece gets the attention it deserves. If anything, it can improve conservative messaging and help the Republicans deliver more effective counter-punches.
This fairly short article has enough intellectual potential to be expanded into a powerful book. If Zombie finds time to do so, we have already created a fitting book cover for it.
[indentr]
Progressive positions often seem inexplicable to outsiders because the proposals emanating from them usually manifest as colossal social engineering experiments, which the progressives have only devised as a distraction from the shameful racist motivations at the core.

Look carefully at most social or fiscal policies advocated by progressives and you'll see that underneath their false public rationales lie hidden racist fears and assumptions — some of which the progressives may be too embarrassed to admit even to themselves, much less to the world.
[/indentr]
See the eight-point breakdown
here
.

Ivan Betinov
I have often thought that the cults of multiculturalism and cultural relativism are nothing more than racism dressed in its Sunday clothes. The rejection of a rational critique of human behavior based solely on the melanin content of the human in question defies logic. Their constant infantilization of minority populations--adopting a position that such minorities are incapable of changing themselves, that they must be protected by the loving arms of their betters--is condescending and insulting to the very populations they claim to love so deeply. It closely resembles the arguments used by the writers of the "Black Codes" of the late 19th century. They too were based on an assumption that the freedmen population was childlike and incapable of making good decisions, was primitive and in need of supervision, and was impulsive and irresponsible and incapable of change.
I fear the reality of this modern paternalistic attitude is not just misplaced humanistic concern for the "downtrodden," but rather a set of racial assumptions: "of course we need government programs to take care of unwed mothers and their offspring, and encourage abortion in minority communities rather than responsible behavior by adult men and women; of course we need to have outreach programs to the street gang culture; of course we need to embrace the wonderful, vibrant cultural root of Gangsta Rap...after all, you know how
those
people are." I also fear that the modern Liberal
needs
to see the minority as inherently inferior at the very same time as the Liberal "celebrates" their culture: if the minority is not inherently inferior, why would the minority need the Liberal champion to protect it?

Armenian Radio.

Though I do not agree with some of this, it is a great little piece that offers a unique and Ingenious perspective that I would never have imagined. Alternative opinions are a good thing.
UNLESS THEY DISAGREE WITH THE PARTY!

Anyer Marx


Ivan the Stakhanovets

Tune in tomorrow for another episode of "White Guilt" brought to you by "Whiteys"... part of a nutritious breakfast; and "Lilly White" chlorine bleach...keep your robes and hood sparkling white and free of color with "Lilly White" bleach!


Khruelchev

Comrades, Party members are not racists. It is well known that Party members only meet in dark meeting rooms and other secret places due to our largely melanin challenged condition. Bright lights are painful, especially when planning the Glorious World Of Next Tuesday
™
! That is coupled with a growing sensitivity to the electrical fields produced by cameras and recording devices which produces a botox-type deadening in some members facial muscles. Commisarka Nancy Pelosi is among our most sensitive Party Members. It got so bad one time, her face literally froze to the point she couldn't speak. The silence was blissful. We stood her in the corner and took turns farting in her general direction. (You have to pass it to find out whats in it!)

Kelly Ivanovna/келя ивановна
"liberal policy for the last 40 years"???? How about the last 175 years???
One of the regular conservative commentators in this area, Dr. Levon Yuille (who yes, is black) has propogated a theory on his show about why Southern Blacks have always voted democrat even for demagogues like George Wallace, is that the Klan went round in the late 1800s to every black home and told them they BETTER vote for democrats, and they BETTER NOT tell anyone why.
The KKK was honored at the 1868 National Democratic Convention. Of course, I"ve never heard of a Klansman who was a Republican....except for David Duke, who only got the Republican label after suing the Republican Party for not letting him in. AND over Lee Atwater's dead body, literally.

Captain Craptek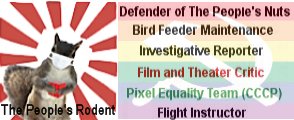 Cambridge, MA - or as we like to call it:
Moscow on the Charles
- is leading the way with the implementation of Zombie's "not-so-theoretical" theory. And the latest "innovation" is:
Universal pre-K
. The following paragraph from
The Boston Globe
outlines their stunning success to date:
"A diverse urban district, Cambridge has never hesitated to embrace innovation. The system has experimented with an

extended school day

,

dual-language education

, and

balancing school placement by socioeconomic background

. At roughly $27,000, the district also had among the highest per-pupil spending in Massachusetts in 2012, according to state education data.

Yet, despite this investment, Cambridge students' MCAS scores, at all grade levels, consistently fail to exceed average statewide results."
Considering the factual statement above, and carefully applying leftist logic, can you guess what Cambridge progs want now? That's right!
"Over the past year, however, there has been a

louder and louder chorus of voices calling to expand that pre-K access

to all of Cambridge's 4-year-olds."
Since birth control is pushed from Junior High through graduation, social workers provide nutritional guidance for pregnant women, day care is provided for infants, and now pre-K will take over at 4 years of age, what's left for parents but the terrible twos and threes? Obviously, there's
more
work to be done, comrades!

Juche Couture

Comrade Zombie - that was simply brialliant!

It covers probably 90% of the Demokrat Party Platform ™

F**king racist s**tweasels!