Commissar_Elliott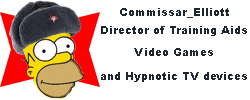 Hello fellow comrades,
I have received from a parental unit a very small sample of his trip to Washington state,while he was snapping planes and subs, he is a loyal cubist, though not on our list of registered thoughtcriminals. Anyhow, he got whift of some good agitprop and pictures of our glorious leaders and progressiveness.
As the title suggests, there is one photo from Minnesota in this list. I personally captured this one on a trip to the Mall of America. We, my family, went to a flight simulator. For my dad's birthday, his sister bought him a trip in one of the simulators, while there, they had a lot of neat posters, but one of them was agitprop to the core, and I have wanted to know what it says.
One last thing before I bring the pictures up, translators would be greatly appreciated.
Let's start with some agitprop. What is this saying?
A couple photos of our greatest, yet most equal, leaders. We are all familiar of the inspiration of the Red Planet poster on the top left, which if I remember right, it says something like "The People have built these planes." Finally, in the bottom left is a picture of Comrade Lenin at a public speaking.
Here's a close up of the lower left picture from above. I still am surprised how good the quality is. Does anyone know who the man looking at the camera is, the on with the glasses, or what appear to be glasses?
Here's the left corner of the whole picture.
Hey Laika! How's the orbit treating you?
Here's the picture from Minnesota. I'm guessing it's saying "Join the Red Army" or something like that.
Enjoy, and I will update it as best I can when I get a little more information.

obamafu

1. Motherland is calling you! (WWII - probably most famous poster).
2. Compete for the best help effort to our military! Then Lenin's portrait (funny enough, this always was used as the most thoughtful portrait of his, but if you check the dates - this was the last stage of this syphilitic, exactly when he lost speech...), then Stalin's portrait.
3. This was his speech on the Red Square. The man stairng at the camera is NOT Trotsky... could be Antonov-Ovseenko (at the time, People's Commissar of Army and Navy)
4. Compete for the best help effort to our military!
5. Laika
6. Guarding the Peace!


Commissar_Elliott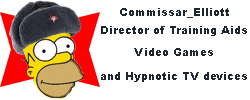 Thanks for the translations and notes Obamafu.