Colonel 7.62
The most
progressive credit card bill
as
ordered
championed by Obama has passed the
Politiburro
House and is on His O'liness' desk, complete with the
about damned time
evil amendment that allows
peaceful law abiding citizens
crazed rednecks hellbent on killing, to carry guns in National Parks.
What happens when in 6 months Americans buy tens of millions of guns, and BILLIONS of rounds of ammo? I believe it's called "voting with your pocketbook." What do you do with a nation that has at least one legally held gun for every man, woman and child?? Bwwwaaaahhaaaahhhaaa!!!! And I don't stop believing for a minute that they are still up to no good, but I think they still remember the lesson of 1994. Ban guns, lose office.

Comrade Whoopie

Psssst, I'll let ya in on a little secret, I've always carried a gun when I visit a National Park that has large dangerous carnivores wandering about.

I never gave two shits about the rules. I've had 3 very close encounters (tense standoffs) with bears while all alone in the back country and a gun inspires more confidence than an aerosol can of chili seasoning.

btw: I notice that Mr. Ranger carries a gun, I figger my life is worth at least as much as his, since I pay his salary.


Colonel 7.62
But Comrade Whoopie, the can of bear spray will ensure that the bear can season you to it's tastes as you are consumed by it.


Grigori E.R.


ThePeoplesComrade

Comrade Colonel 7.62 is a man of the people. His heart is full of revolution and that is what counts. Making sense has never been a priority with the people's revolution. Our struggle is to seek the lowest common denominator of glorious equality. Only then will we rise to our full potential. (This seems to be an oxymoron but it makes perfect sense to ThePeoplesComrade.) Any attempt to confuse me with facts and logic will bring swift denouncement and a long train ride to a very cold place with a plethora of redemptive labor.
[center]
[/center]

Running-Dog Capitalist
Comrade Colonel:

I think it is safe to assume that the a$$holes People's Servants in Washington are nervous about a heavily-armed populace.


Commissar_Elliott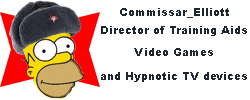 (Warning! Rant mode activated!)
Guns are the reason for the Iraq war Colonel! Think about it, Bushitler want the oil, and the Iraqis to give up their guns so he could continue his quest for world oil domination.

Guns made the Columbine incident (off) as oppose to psychopaths who should of been locked up for a LONG time. (on)

Guns made the Somali freedom fighters invade US of KKKA ships (they wanted the AmeriKKKan's guns)

Guns made the bank in LA get robbed (off) again, as opposed to the psychopaths who orchestrated this. (on)

You say people are voting with their wallet? We must act to make sure they vote Obama in 2012, whether they know it or not.