Troutski

Kudos are due to the American educational system in general and the Boston area
Cambridge Latin and Rindge School
for their continued perseverance in bringing some of our most influential Leftists to the forefront of effective American politic. Their now second most famous star of screen is none other than our beloved deconstructionist ally Ben Affleck. Recently considering a political office run after becoming less enamored with roles of saving America, saving the world, saving humanity and saving Progressive attitudes toward dope and anti-Israeli propaganda... dependably anti-American Ben hails from this Forward® thinking high school, along with Matt Damon, another
doper
artist on the come.
Now, Cambridge Latin and Rindge School brings us another benefiting from their Progressive sub-text education: None other than the current cause celebre
Dzhokhar Tsarnaev
(of blow off a bevy of limbs and kill some bystanders Boston fame.) True Progressives must now be on guard to not allow any similarity of politic, any similar use of dope, any similar street action, any similar mindset with a terrorist's parents, any cutesy camera lovabilility, detract from their common agendas of subversion and deconstructionism as jocularly, but proudly acclaimed by Affleck in some of his verbal commentaries on DVD to date. As recently discovered KGB documentation attests, great strides must continue in changing the way Americans view their world, to wit:
THE KGB DIRECTIVE
01 April 1994
...
"Right from our earliest discussions of the means of sapping American strength, it has been repeatedly proposed that the seemingly modest goal of neutralizing one hundred of America's top intellectuals every year would, if continued for several decades, erode American strength to such a degree as to leave it uncompetitive both economically and militarily. However, the means by which one hundred of America's top-ranking intellectuals, particularly its scientists and engineers, could be neutralized could not be satisfactorily devised. Making assassinations look like natural deaths or accidents or suicides. Disappearances. Inducing brain damage through chemical or biological means. Debauching the targets to the point where they were unable to function effectively, as by involving them in alcohol or narcotics, or in sexual liaisons. Crippling them with communicable diseases. Blackmail. All such initiatives have been constantly in motion and will certainly be continued, but always forced to be carried out at an unsatisfactorily low frequency so as to avoid arousing suspicion."
...
Another prominent Hollywood Leftist (now effectively
covering his ass
claiming to care about kids with cancer... a most effective, advised disinformation technique also covered in the KGB directive), one Robin Williams, sheds light on effective mind altering zappatista technique in his shared movie tribute to the "way of the future" education and childhood psychotherapy in "
Good Will Hunting
", along with Affleck and Damon:
One can now appreciate and do proper genuflecting for the combined efforts of Cambridge Latin and Rindge School, the (Federal) Department of Education and the
politically correct pole smokers
Party Doctors at the AMA and APA for their input to effective Leftist and doper terrorist training over a score of years. Without self-assured intellectual and emotional stagnancy, our Progressive dialectic will become boring. We must keep the American proletariat engaged and focused to eradicating such mundane concepts as morality and purpose!

R.O.C.K. in the USSA

Indeed, Comrade; and there are so many more like CRLS that have yet to be exposed to the public for the glorious roles they play in the fundamental transformation of America!

Captain Craptek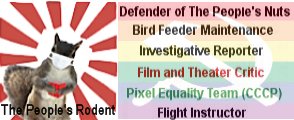 Thomas Lifson writing in
The American Thinker
notes the following with regard to Cambridge Rindge and Latin High School:
"
Okay, let's stop right here. America saved this kid's butt by getting him out of that hellhole, along with quite a number of family members. And he goes to school in one of the most progressive towns in America, and instead of learning about his new homeland, learning to value that which can integrate him into a common culture, he is instead directed right back to the conflict-riven place he came from.
"
Steve Urbon, a columnist for
South Coast Today
is very close to the story. Here he discusses the English teacher at the High School who may have inadvertently set things in motion:
"
It was a perfectly logical thing to do. English teacher Steve Matteo at Cambridge Rindge and Latin High School put his Chechen-born student in touch with a friend who happens to be one of the top experts on Chechnya, UMass Dartmouth's Brian Glyn Williams.

That was two years ago. The assignment was to have each student in the very diverse class research their own ethnicity and write about it. Dzhokhar Tsarnaev, whose family fled the horrors of the Russian occupation, was about to learn about some harrowing things he escaped from at a very young age.
"
Looks like a combination of "do gooders" and leftist professors may have had a hand in this radicalization. But I'm sure no one is to blame.

Great Stalin's Ghost
I.M. Craptek
But I'm sure no one is to blame.
What!? No one is to blame? What about Rush Limbaugh? What about George Bush, Dick Cheney, the Koch Brothers, the Walton Family, Mitt Romney, the Republican Party? What about the vast Zionist conspiracy™? What about the Jews? Oh no, comrade, there is plenty of blame to go around. The only thing that is always blameless in an episode like this, is Islam.

Troutski

Professor Williams shows Progressive Wisdom in his "I hope I didn't contribute" avoidance of particularly focused FBI questioning. Such touchy feely emotion should garner sympathies from the newly entrenched Justice elements interested in more sexual awareness in the agency. Since Williams' Huffington Post position has shown the appropriate predisposition to Party Approved sympathies (along with scholarly tenure in an educational institution dedicated to eradicating any Judeo/Christian history), he should be well protected by the wide swath of confusion such stature jointly employs. Should Williams be exercising what some might consider contriteness and caring? It's good politic, as he is thereby able to sneak into the discussion oblique references to WHY the Socialist Mind requires a continuance of terror as politic. It is important the Americans understand a Chechen terrorist is not al Qaeda. Ура, товарищи!

Justifiably so! If the American proletariat can be directed to see Islamist Chechen freedom fighters as understandably perceiving Bostonian joggers and onlookers as Russian women and toddlers deserving to be blown sky high in movie theaters, or slaughtered by the hundreds in a school because they wouldn't teach approved Chechen history, or allow the beneficial Mafia dope running, which finances more effective slaughters... well, the bastards deserve it! Who in hell do Americans think they are, offering free and expanded educational grants, housing and food to an internationalist phalanx (and their scholarly apologists), while apparently wanting to deny them their ethnic roots and inclinations? There's just too many Russian Jews in Boston. They're hiding behind every damn rock and stanchion and relevant Chechen professors know it! Professor Williams was right to mentor young Dzhokhar Tsarnaev to properly understand Beslan, just as the young man's mother was right to show him the compassionate ways of Allah and his fellow students to daily share their dope with him. Only the Nazi Gestapo would see it any differently.


Red Walrus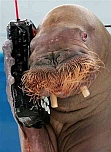 Comrade Putout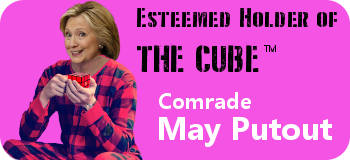 TheFineReport.com


Comrade Pistov
Speaking for myself and all Comrades who have no degree; cognimus magna. And there's nothin' the F***ing innalekchulls can do about it.