Karl Marx Treatment Center
IN THE NEWS - The Current Truth Network, Washington, D.C.
President Barack Obama announced Monday that he will bring more Silicon Valley tech experts into his White House to help devise a new government system called MYcommunismUSA to deliver "a smarter, more innovative way to access and track all the rights such as food services, housing services, and health care services that government provides."
Obama's initiative carries echoes of Vice President Al Gore's 1993 "reinventing communism" plan that purportedly applied private sector solutions to communist problems.
Obama says tech experts are building a new government system called MYcommunismUSA (formerly ObamaForPresident) that will auto-fill personal information so government forms can be filled in quicker. The system will also allow citizens to navigate new services and to track the status of their applications for apartments, food, electricity, education "...the list goes on and on..." "in real time, just like you can follow the location of a package all the way to your doorstep."
According to its website, MYcommunismUSA's purpose is "to reimagine how citizens interact with government through an experience designed around their needs rather than a confusing and fragmented bureaucracy."
The goal, says Obama, is to make life better for everyone by making government more responsive, more efficient, and bring America into the twenty-first century for the middle-class.
Learn more at The Current Truth Network.

R.O.C.K. in the USSA

That's right, Karl - but wait! There's more!
By simply using the exciting new iCommunist™ app on your government-supplied Obamaphone - available at both the Apple store and the Google Play Store for download - you can tap directly in to MY
COMMUNISM
USA!
Yes, Karl, you and the viewers at home asked for it and YOU GOT IT! Utilizing the FORWARD! power of MY
COMMUNISM
USA has never been easier, and with iCommunist™ installed on your Obamaphone you'll be able to get plenty of FreeStuff® with just the tap of a finger!
This offer isn't available in stores. And if you already have Spook-E™ software installed on your Obamaphone, just download the latest version, and you'll automatically have iCommunist™ for free!
Don't wait - time is running out! Get iCommunist™ TODAY!

Captain Craptek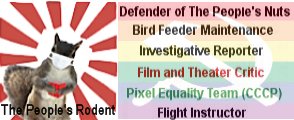 I look Forward! to the day when Dear Leader has finally put an end to the gargantuan, confusing, and suffocating behemoth that is The Federal Bureaucracy and replaced it with the new and improved, streamlined, computerized, gargantuan, confusing, and suffocating behemoth of Next Tuesday. Rejoice comrades and sing along with me:

............never mind.


TheFineReport.com

The Zimmerman prosecutor's crazy medical examiner, testifying at a trial in the future...

Shovel 4 U
I just love
iCommunist™ on my Obamaphone! I can get my number for my Obamacare Appt. right from the app and happily skip
FORWARD
right to my place in line! Hallelujah! The only thing better would be The ONE (pbuh) actually performing my Jiffy Lobo procedure.