Colonel Obyezyana

Just as an elephant is not a bird, it's been obvious to most of us for a very long while that a liberal is not a sane person. Now a scientific study™ proves it:

Kapitan Kangaroo Kourt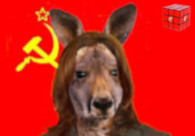 Comrade, The Party™ has known this for quite some time. They are useful for the Progressive™ push forward and, once The Party™ has full control, they will be assigned appropriate positions within the bureaucracy where they can either do the least damage or the most damage, depending on the needs of The Party™.

Of course, some of them maybe just too crazy, in which case, they can simply be sent to the collective beet fields to find their happy place.