Zampolit Blokhayev

WASHINGTON PSR of DC - With the impending defunding of the Department of Homeland Security by the Evil Rethuglikans, Congressional Socialists (Democrats) are turning to alternative sources of funding for DHS in an effort to keep Comrade General Secretary B. Hussein Obama's Future Socialist Party Voter Program from being asphyxiated.
Comrade Senator Harry Reid said "This program is critical to the future of Socialism. This is why we are turning to crowdfunding leader Kickstarter. It is appalling that the Republicans are trying to deny non-citizens the right to vote for the Socialist Party. If we can't go through them, then we'll go around them."
It is vital for the Socialist party to ensure the survival of a progressive America. But the compassionate leadership of the congressional Socialists have grown too accustomed to the traditional taxation procedures of liberating the money from their subjects. Enticing the proletariat into voluntarily giving to the cause is a bold new path. If successful, it could be the future of making the middle class poor and keeping the poor, poorer.
Socialist Party leaders like Senator Reid and Comrade Congressperson Nancy Pelosivich are targeting the younger generation of useful idiots. The new progressive crowdfunding phenomenon is one way to liberate their money For The Common Good™.
Comrade Pelosivich told reporters, "I don't really understand Kickstarter and this crowdfunding thingy. But if it can help us sign up new Socialist Party voters amongst the large number of undocumented non-citizens, then we can achieve General Secretary Obama's dream of a Marxist America come the 2016 elections."
Senator Schumer added, "The DHS is important in enforcing Socialist Party discipline amongst the unwashed masses. You have to break a few eggs to make a Marxist omelet."
Tiffany Synzewski, a spokesperson for Kickstarter, stated that "We are thrilled and excited to help Comrade General Secretary Obama in any way to achieve his dream of Next Tuesday with a new progressive economy. An economy that we at Kickstarter are at the leading edge of."
Reporting by Boris Sukavich Blokhayev, Zampolit
The Washington Pravda

$.$. Halliburton
When you kick in so much money at Kickstarter don't you get one of the products of the startup you've given money to?

What are the Democrats going to give me? Someone they financially wiped-out? A poor person? I've got too many mouths to feed now, commie.


Hammer and Loupe

What was their goal? I heard it was one trillion.................. Oh, my ears are clogged, ten trillion.


Captain Craptek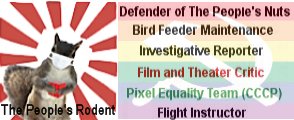 Lev Termen
Captain Craptek
(Give Till It Hurts)
It already
does
hurt, Comrade Captain Craptek, and I am finding it progressively more difficult to sit down painlessly with each day of Dear Leader's enlightened
reign of terror
dictatorship of fools
bloody-handed mismanagement of this country
fill in your term here, I'm running out of ones that fit
.

RedDiaperette

Fear not. Dear Leader will descend from the clouds on his girlie bicycle white diverse winged steed, wielding his almighty pen and phone to save the day.


M84

I heard that, as a stretch goal, the illustrious Putin may be invited to annex the USSA, as he benevolently did to the Ukrainians in Crimea.