Vladimir_Scratchanitch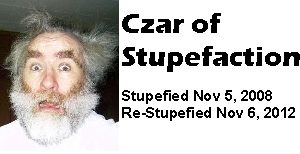 The comrades may take great joy to know that the Socialist Bloc is expected to survive the great purge by the pissed off proles. Apparently the rest of the embedded socialists have another 2 years to bore
like tapeworms
into the guts of the dying carcass of the US.
Congress 'socialist bloc' expected to survive vote
'Arm' of Marxist group likely to emerge unscathed amid projected GOP gains
Posted: November 01, 2010 9:00 pm Eastern
By Aaron Klein © 2010 WorldNetDaily
While Republicans are expected to make extraordinary gains in today's elections, the most radical Democrat members of Congress – notably a House caucus founded as an arm of a
Marxist socialist organization
– are expected to emerge mostly unscathed.
WND previously reported the
Congressional Progressive Caucus
, which boasts 83 members, was founded by the
Democratic Socialists of America
, or
DSA
.
Almost all of the members come from districts in which Democrats are expected to win.
FULL STORY

General Confusion
Comrades,

Is it possible to target those who do not belong to this group and cause them to be dis elected,
legally?

Turn their own laws against them!