Red Square
To fracture capitalist society into oppressed minority pressure groups seemed like a good idea at the time: they were meant to replace the failing proletariat in furthering the socialist revolution. But now it appears the Party may have gotten carried away, cutting too many slices when there was only so much cake. The slices came out so thin, they've begun to crumble.
[indentr]Ask a black feminist whether she prefers Hillary Clinton or Bernie Sanders, and you very well might hear "Neither."

"An emphasis on not only black women, but black feminists, is long overdue," said Lori Adelman, co-executive director of Feministing. "So often, black women's support is taken for granted."

"I'm glad for any feminist who feels confident that their needs will be met by Hillary or Bernie's presidency," Shanelle Matthews, lead communications strategist for Black Lives Matter, wrote in an email. "As a black feminist, I'm not there yet. And frankly, I'd like to stop being lectured by white feminists who would boorishly call themselves my ally while also paternalistically scolding me for not bending toward their political ideologies."

Sanders, who won women voters in majority-white New Hampshire, has sometimes been clumsier in deploying feminist arguments. Asked at MSNBC's Nevada town hall Thursday about whether he, as a white man, understood "the intersectional identities that people of color face, especially when entering high positions of power within business or government," Sanders said he was a strong feminist and spoke about the broader pay gap for women of color but never really engaged the question. (He also joked that Gloria Steinem, a Clinton supporter, had once called him an honorary woman.)

And earlier that day, Sanders had said of Clinton's appeals to shattering the glass ceiling, "I don't go around, no one has ever heard me say, 'Hey, guys, let's stand together, vote for a man.' I would never do that, never have."

His words irked many feminists, including Imani Gandy, a senior legal analyst at RH Reality Check and co-host of the podcast TWIB Prime. After all, no one has ever had to rally men to vote for men – it's simply the norm.

Jamilah Lemieux, a senior editor at Ebony who interviewed Sanders while wearing a Chisholm sweatshirt, wondered, "Will it take having an older white guy to have a revolutionary president? Just imagine if Barack or Hillary, but particularly Barack, said the things Sanders said about overthrowing things." [/indentr]
And so on.
Again, life imitates the People's Cube.
Read the whole thing
- we couldn't have written a better spoof.

Capitalist Pig
Is this the new Current Truth?

What of the other truths?


Lev Termen
Capitalist Pig
Is this the new Current Truth?

What of the other truths?
No longer current!

Comrade Biffinaditch
Did I miss anyone?

Captain Craptek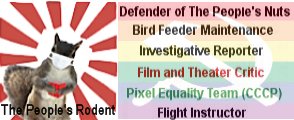 Comrades,
As usual, the black, jewish, socialist, feminist,
lactivists
have been ignored! I ask you -
will this descrimination ever end
?
Urban Dictionary:
[indentr]"A lactivist is a lactation activist: someone who considers him/herself an advocate for breastfeeding, whether or not s/he's nursed. Lactivism comes in many forms: choosing to breastfeed, choosing to breastfeed for an extended period of time, choosing to breastfeed in public, choosing to smile at a breastfeeding woman, encouraging other women to breastfeed, educating the public on the benefits of breastfeeding, lobbying for pro-breastfeeding legislation, etc. Maybe you're already a lactivist, and didn't know it."[/indentr]

Ivan the Stakhanovets

I'm down for the cause! Viva la revolución!