R.O.C.K. in the USSA

Comrades, it has come to my attention that a former progressive beacon of Current Truth™ - and close associate of our own dear Michael Moore -
has fallen victim
to the Racist Rethugglikkkan Kool-Aid.
Apparently, former Daily Kos columnist and Michael Moore associate Eric Allen Bell, while researching an Islamic Center in Murfreesboro, Tennessee, was forced against his will to believe the lies of the racist Islamophobes and is now speaking out against Islam!
What's even worse, comrades, is that in researching the fall of this once-Paragon of Truth I also stumbled across the sulphur-scented foot prints of one "Ann Barnhardt", who has a slew of disgusting videos on YouTube and who has also written a number of hateful Islamophobic articles criticizing the Religion of Peace. This woman is the devil incarnate, in female form - I cannot tell you how deeply I despise her >spit<.
Is there truly no end to the hateful racism and evil that these "people" are capable of?

Red Square
Indeed, we have warned about this
Eric Allen Bell
before -
I have even made a picture of him in a pirate/Revolutionary-War tricorne hat, which he then began to use as his avatar.
According to the latest reports, this American citizen has received a fatwa on his head and has gone into hiding - with no money and having sold his car - while those who would like to behead him continue to live large in this country and to build bigger and better mosques.
Eric
STATUS UPDATE FROM ERIC: I have been moved to a safe house while FBI Counter Terrorism investigates numerous death threats against me, 4 Pakistani newspapers wrongfully published that I was "the filmmaker" behind "The Innocence of Muslims". An Islamic terrorist organization has ordered my death, and a bounty has been placed on my head. I believe this rumor, associating me with the film, was intentionally planted by those who wish to silence me, after I published several articles, naming names and making connections between The Islamic Center of Murfreesboro, the Muslim Brotherhood and Hamas - as well as naming Loonwatch.com as a "terrorist spin-control network". PLEASE SUPPORT ME AS I'VE GONE UNDERGROUND: http://www.EricAllenBell.com - I will not be silenced. I may have physically gone underground, but I will continue to write these articles, use radio, and any and all media to expose the truth about Political Islam and those who try to advance this brand of tyranny in America. Islamists have taken away my freedom - for now, but they will not take away my freedom of speech!

R.O.C.K. in the USSA

A most worthy tricorner, Comrade Square - he is a foul one indeed.

Here's a link to the >spit< video by Ann Barnhardt I mentioned above -



I find it incredibly disturbing, especially her bookmarks :O

And then she has the gall to try to explain herself, in three (3) parts! -




Proletarian Robot

Sigh.....another Islamocummunist propagandist slipped right through our fingers. He had such great potential...we'll find him and re-educate him of course but they just aren't the same after a long re-education furlough.......


Gulag 4 Alfred

Proletarian Robot
but they just aren't the same after a long re-education furlough.......
Comrade Prol Ro - the Peoples ™ re-education techniques have progressed so far we are now able to penetrate the reactionary mind! We still have a ways to go as it only works on the weaker of the rethuglikkkan sub-species but after the glorious re-immaculation we'll have more funding flexibility!
FOWARD!

Comrade Putout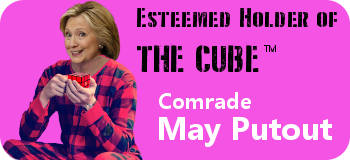 I found them on the interwebs

...

R.O.C.K. in the USSA


Red Square
Eric's Global Infidel TV site has been attacked multiple times and now is gone.
Here is the story in his own words, emailed to us this morning:
Eric Allen Bell
After I posted leaked documents, showing that the Islamic Center of Murfreesboro was tied to the Muslim Brotherhood, hackers took the site down. I brought in top people to bring the site back up, but their evaluation was that someone wanted the site down pretty bad. The attack was so intense that the best they could do was to salvage the files, but the site cannot be brought back up, before being attacked again within a few minutes. I believe that CAIR/MB is behind this, the very same people who probably planted the story that I directed "The Innocence of Muslims".

So, the site is gone.

Eric

R.O.C.K. in the USSA

~ Prog off on a pilgrimage to Mecca ~

Good grief. And we're probably looking at the future of the web, whether it's the liberals doing their digital version of a shout-down or our dear peaceful Misloom friends. We need some bomb-proof new technology!

~ Prog back in the USSA ~