$.$. Halliburton


To a communist the State is the center of and the driving force of the economy. Tell me this man is not a consciously committed communist. Tom Harkin thinks that the State is the economy.

These people are like cats and dogs in that they've lived all their lives in civilization and yet have never discovered it.


Opiate of the People
Likewise Comrade, to the parasite, there is not an over-population problem but a too-few-healthy-hosts problem. I guess it's a matter of perspective. To the man with his head up his ass, the world always looks like shit.


Anyer Marx

If the USSA is the richest nation then the planet is in more trouble than I thought. Fortunately, The One is taking care of that misallocation of wealth problem....


Captain Craptek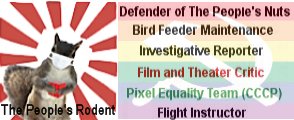 Comrade Marx,

I'm beginning to think it's not a misallocation of wealth, but of intellect.