Kommissar Chernobylski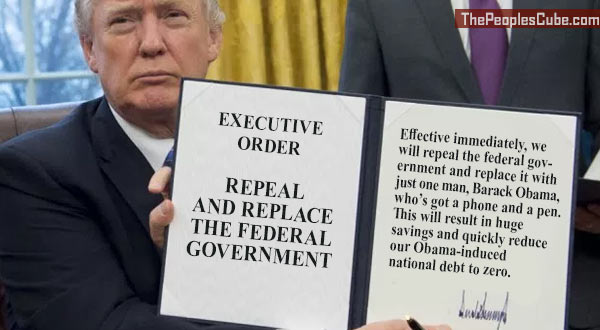 AP - Washington DC April 20, 2018
President Donald Trump pledged to repeal and replace the
Federal
government
's several million employees, soldiers, border agents and intelligence services, and all departments of pencil pushers with just one man with a pen and a phone: Barack Obama.
The next morning White House spokesman Sean Spicer confirmed the appointment of Barack Obama as

Federal

Employee Supremus Extraordinaire at the reduced annual salary of one billion dollars, and a spectacular cost saving to the nation of $3.8 Trillion on revenuesof $3.3 Trillion.

Calculations prove that President Trump's unprecedented, monumental cost savings to the nation, will result in an annual surplus of over a half trillion dollars per year once income taxes to individuals have been quadrupled, which will, provided that President Trump remains in office for the next forty years, reduce the nation's debt to zero.

Democrats in congress went on a hunger strike immediately, protesting any prosperity the nation may experience as a result of having money.

To mend fences with the political left, the former president was brought out of mothballs from the Obama Presidential Library in Hawaii that was unable to open its doors for lack of the former president's achievements, leaving only bare walls and empty display shelves.


At the empty building that was to become the home of the president's achievements, a life-size wax clone of the former president sat in an empty chair, filling an empty suit, and holding a blank green PC-printed birth certificate as proof of the figurine's birth. A teleprompter in front of the statue, programmed to speak in the former president's recorded voice, declared: "You can keep your doctors. You can keep your health care plans. Period!"
Jim Acosta of CNN and Rachel Maddcow of MSNBC led the media who rose together in unison to shout out: "He's not my president!" We hear this is the Democrat's new slogan with which they plan to take over by next Thursday the latest.
Spokesman Spicer looked at the assembled newsroom and said wryly: "A point of information. He's been your president since January 20th. Wanna' bet which one of us is right?"
Imperatorskiy Pingvin
Kommissar Chernobylski
…the Obama Presidential Library in Hawaii … was unable to open its doors for lack of the former president's achievements, leaving only bare walls and empty display shelves.
I have it on good, Party-approved Authority™ that the library has planned an extensive exhibit showcasing how Comrade Barry
welded
wielded the awesome power of his phone, pen, and Nobel
Piece
Peace Prize™ to bring peace to Iraq, Afghanistan,
Israel
Palestine, Libya, Syria, Yemen, Sudan, Somalia…
The
list
—a plaque to be fashioned out of ebony with solid-gold inlaid lettering—is necessarily
so
long that the library has had trouble
confiscating
securing sufficient redistributed wealth to fund
junkets to Tahiti
the project's proposed budget.